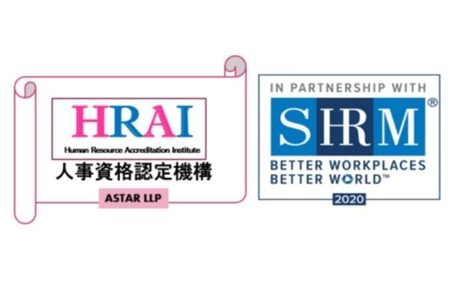 SHRM Essentials of Human Resources course now available in Japan (in both English and Japanese)
As you may be making your learning plans for this year now, we would like to let you about an opportunity for enhancing your human resource management skills and knowledge that is now available in Japan. The newly-established Human Resource Accreditation Institute in Tokyo is now offering the Society of Human Resource Management (SHRM)'s Essentials of Human Resources course in Japan. Both Japanese and English versions are available.

SHRM Essentials of Human Resources is an introductory level HR program that provides insights into the standards for knowledge, strategies and competencies required of effective HR professionals around the world. After taking the course and passing a test, you will be issued an official credential.

This course is ideal for those who are:
New to working in human resources
Whose experience has been in domestic Japanese human resources and want to better understand global practices
Managers with HR responsibilities
The program covers six key HR topics and provides knowledge you can immediately put to use in your organization:
Human Resources. Gain a clear understanding of the HR function.
Talent Acquisition. Develop important skills for attracting and selecting employees.
Total Rewards. Learn the key elements of a total compensation system.
Learning and Development. Obtain an understanding of orientation, development, and training.
Performance Management. Discover the purpose and process for performance evaluation.
Employment Law. Enhance your ability to apply key HR legislation (based on U.S. labor law).
After completion of the SHRM Essentials course you will have:
A better understanding of Human Resources issues facing organizations today
Expanded awareness of HR behavioral competencies
Practical expertise to increase job skills
Increased on-the-job confidence
This course is being held in a Japanese version (January 28th and 29th, February 15th and 16th), an English version (February 4th and 5th), and a bilingual session (April 17th and 18th). I will be the facilitator for the English version and the bilingual version.

Click here to register for this course (scroll down on the page to select the version). When registering, you will be asked to indicate your "HRAI partner." Please choose "Japan Intercultural Consulting".

HRAI is also able to present this course as an in-house session at your company. If you would like to explore this, please contact us and we will put you in touch with the appropriate person at HRAI to discuss further.

It's great that this course is now available in Japan, and we hope that you and your colleagues will take advantage of this opportunity.