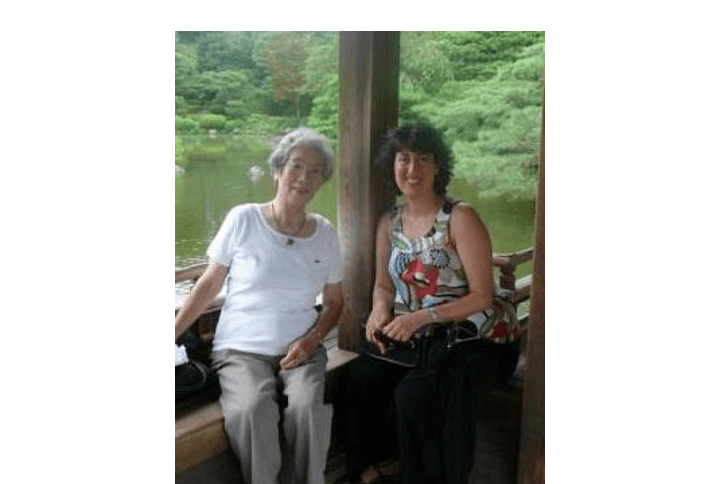 September 07, 2010

How I spent my summer vacation – traveling in Japan

As mentioned in my last post, with the help of InsideJapan Tours I planned an independent tour for my husband and myself from Kyushu to Tokyo that we've just completed. In this post I'll give an overview of the trip, and in following posts will give some details and recommendations for some of the locations of particular interest.

Day 1

Our trip started from Beppu in Kyushu, near where my husband and I had just finished up teaching classes at the summer session at Ritsumeikan Asia Pacific University (I taught Cross-Cultural Management in the MBA program, and he taught an undergraduate C++ programming course.)

We boarded the ferry bound for Yawatahama on the west side of Kyushu, a very pretty trip that took a couple of hours. Then got on the train for a lovely ride through mountains and gorgeous green valleys to Matsuyama. There we eschewed the ropeway and stretched our legs climbing up to the well-preserved castle. We then took the streetcar to Dogo Onsen, and took a bath at the famous bathhouse there. A wonderfully atmospheric old place, it was a favorite of writer Natsume Soseki and is said to be the inspiration for the bathhouse in the animated film Spirited Away. The shopping arcade in the area is cute, and while there we were treated to a performance by the girls from the local baton twirling school, twirling away to the upbeat tune "Viva Matsuyama!" in preparation for an upcoming matsuri. We had sushi near the onsen, then headed back to our hotel (the unremarkable but comfortable Matsuyama Kokusai Hotel).

Day 2

We headed for Kotohira by train, and checked into the cozy Kotobuki ryokan. Kotohira is an interesting place, and I'll write about it further in another post.

Day 3

We headed over to Marugame and climbed Mount Iino. Our further adventures there are detailed in this post. We decided to skip the uchiwa fan museum and the modern art museum in Marugame, and headed back to Kotohira for another night at the Kotobuki.

Day 4

We did some more sightseeing in Kotohira, then headed over to Takamatsu. We enjoyed the Ritsurin Koen, a fabulous and huge Japanese garden that took over 100 years to build.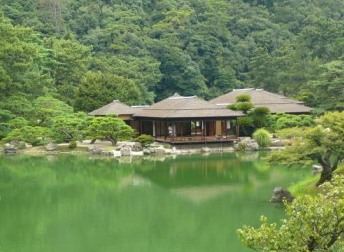 We also liked the Kagawa Prefecture products shop in the garden, which had a very comprehensive selection of local products from ice cream to laquerware and everything in-between. Taken by an interesting very small wooden table (sized to be used when sitting on the floor) by a local artist, we decided to get it as our one larger souvenir on this trip rather than buying several minor ones. The manager of the shop was delighted at our selection – basically I think we made his day, and that in itself was fun.
We headed back to the hotel (a boring and cramped Tokyu Inn unfortunately) via the shopping arcade, which is the longest one in Japan. We stopped at a little place frequented by locals, and had the best of the many udon meals we ate in this region (Steve's was hot with yuzu and daikon, and mine was cold with black vinegar and seaweed) as well as the local specialty of bone-in roast chicken.
Day 5
We took the ferry to the island of Naoshima. I'll write more about this in a later post.
Day 6
We left Naoshima and headed to Okayama, where we visited the castle (nice but not as interesting as the one in Matsuyama) and the Kooraku garden (nice but not as interesting as the one in Takamatsu). However, the hotel we stayed at in Okayama, the Kooraku Hotel, was notable, and I'll write more about it in a later post. Also loved the izakaya called Shuren that we found.
Day 7

We headed up to Kyoto, where we checked into a rental house. I'll write about the highlights of our Kyoto sightseeing in another post. Photo at the top of this post is with my Japanese homestay mother, Mrs. Kanai, at Heian Jingu.
Day 8-10
Also in Kyoto
Day 11

We took the bullet train from Kyoto to Hakone, where we checked into the Ichinoyu, a classic old ryokan. More on our time in Hakone to come in another post.
Day 12 was also Hakone, then we headed home on the 13th.
All in all, a very nice trip!